Hackathon for Innovation in Satellite & Climate Data
IBM, Technická 2995/21, Brno

 16–17 March 2018 
plus pre-mentoring by ESA BIC Prague to help you star-up your business

!
WHAT IS EOVATION CITY & CLIMATE ABOUT?
  EOVation City & Climate is a hackathon for innovation organized by the business incubator ESA BIC Prague. The main technological partner is the global giant in IT – IBM.
  The goal of this competition is to create a prototype with business potential that can be pitched in 7 minutes. This prototype should be focused on using satellite and climate data in services and products adapting cities to climate change.
  Teams composed of 2-5 multidisciplinary participants will have 24 hours to try to find solutions how to make our cities cleaner, healthier, safer and more prosperous.
FOR COMPETITION RULES CLICK HERE.
FOR SOME TECHNICAL GUIDES CLICK HERE.
FOR PREZENTATIONS FROM THE WORKSHOP CLICK HERE.
CHALLENGES
 TOPICS FOR HACKING:
Climate change in city life
(light pollution, temperature map, smog, ecological footprint, etc.)
Smart City
(smart traffic, smart urbanisms, life quality index, etc.)
Urban development
(urban sprawl, vegetation diminution, health of greenery, etc.)
INSPIRATIONAL CHALLENGES:
   Create service or a support tool for a decision making process that will help cities to adapt to climate change
   Determine life quality index (air quality, greenery, traffic density, etc.) compared to other cities, countries and average levels
   Develop a game (e.g online, board game) that would bring attention to Earth observation
   Develop an app that uses existing data to identify dangerous conditions for people to take part in everyday life (smog, acid rain, high CO2 levels, low oxygen levels, etc.)
   Define health/quality state of big green areas in cities
   Identify a method in which satellite data could help us to create the ideal place for recreation for the public insides and outside of the cities
   Simplify identification of new sources of renewable energy (wind, solar, wave, etc.) with help of publicly available climate/ Earth observation data
SPECIAL CHALLENGE: HOW TO PREPARE BRNO FOR CLIMATE CHANGE – BRNO CUBESAT CHALLENGE:
    The challenge is to design concept of Brno CubeSat that would be feasible and could help to improve the quality of life in Brno. There are no limits, let's launch Brno into the orbit.
EXPERTS WHO WILL BE IN ATTENDANCE
Tomáš is a PhD student at Palacký University in Olomouc. During his studies, Tomáš have attended numerous workshops, conferences and contributes to international cooperation and projects. His focus is mainly airborne thermography, Sentinel data exploitation and thematically urban environment and agriculture. In year 2016, Tomáš and his team won second place in european Farming by Satellite prize. Tomáš is here to help with the application part in between programming and topic.
Enthusiastic Italian born in Southern Italy, William studied Aerospace Engineering at La Sapienza University of Rome and Electrical Engineering at UAS Technikum Wien from which he also received MSc in Information Systems Management with a thesis on cognitive technologies and machine intelligence, in cooperation with IBM. While studying, he started his career as Business Analyst at IBM. Later he became a Business Operations Manager. Thanks to his passion about Watson and cognitive systems, his move towards the cognitive world, offered by IBM, was a natural fit. William is now leading Cognitive Initiatives for Enterprise Services in Bratislava. Member of the IBM Academy of Technology, William is also the Chairman of the Technical Expertise Council for Slovakia and Czech Republic.
Contact: william.carbone@sk.ibm.com
I have been in the field of advertising and marketing for 12 years. I worked for several famous advertising agencies such as Wunderman. Last year I've been trying to creatively apply acquired experience on IT business within IBM. I'm focusing on developers and startups support, building IBM startup ecosystem, and connecting startups with investors.
Contact: angelika.dudova@cz.ibm.com; +420 604 376 456
Web: https://developer.ibm.com/startups/
Contact: william.carbone@sk.ibm.com
Lucie works as Project Manager at the Investment and Business Development Agency CzechInvest. She specializes in marketing and is responsible for marketing part of the EO ClimLab (Earth Observation Climate Laboratory) project in the Czech Republic.
Lucie is kind smiling girl who is prepared to help you with your troubles related to organizational matters during the hackathon.
Contact: Lucie.remesova@czechinvest.org; +420 720 071 307
Jana works as Head of Project Department at CzechInvest Agency while being responsible for space/earth observation related projects and SME's support projects. At ESA BIC Prague she focuses on start-up scouting and technological competition and other knowledge & innovation events like hackathons, data trainings etc.
She is responsible for Copernicus user uptake in the Czech Republic while working as the core member of National Secretariat of GEO/Copernicus.
Contact: jana.smotkova@czechinvest.org; +420 602 569 089
- I lead several teams and organisations during my career. I'm focusing on project development with focus on business. During my career I grew up several teams from zero to hero and handover them to late stage managers.
- I started as 16 years old with first HW and SW architecture base on open source software.
- I built first community network as main technician with over 2000 clients inside in 20 years.
- Project manager from 23 years in corporate environment (good knowledge of ITIL).
- Technology trainer from 25 years (later worked as HP Certified Trainer).
- NGO activist as StartupWeekend lead-organizer expansion over country and international facilitator and ITexperience.sk education leader.
Personal goals
Extend scope with new hardskills and rock(n)roll them, meet new people and have lot of fun in between.
Specialties
Soft skills
Presentation, training delivery, project and change management, networking, fundraising, negotiation
Hard skills
UNIX/Linux solutions, SAN/storage solutions, backup solutions, HA concepts implementation and support of distributed and heterogenous IT environments, infrastructure automation and consolidation, cloud migrations, python, middleware, databases
Contact: michal@maxian.sk; https://www.linkedin.com/in/mmaxian/
Web: http://www.maxian.sk/
Petr works as a Client IT Architect, certified IT Specialist who specializes in: cloud computing, managed services, service oriented architecture, enterprise service bus and business integration.
Contact: plestina@cz.ibm.com; https://www.linkedin.com/in/petr-lestina-170b371/
Web: https://www.ibm.com/watson/
I have been working at IBM since 2009. I went through IBM Software group focusing on endpoint management and cloud solutions. Currently, I am a member of IBM Services team responsible for custom-built solution architectures and development (mainly in Java and Node.js). I also participate in local IoT/AI team working on projects in the area of Internet of Things.
Contact: jiri_petnik@cz.ibm.com
Web: https://www.ibm.com
Daniel is a software engineer specialised in AI, data processing and blockchain. He holds P.hD. degree in electronics and informatics. Prior to co-founding SSF | Space Systems Czech, Daniel worked at the European Space Agency. Currently, he participates in an asteroid prospecting mission definition.
Contact: daniel.stefl@spacesystems.cz; +420 608 716 932
Web: http://www.ssf.fi/
Patrik Reichl has been working in the CzechInvest since 2005. Currently, he is the head of the regional office for the South Moravian Region. From 2010 to 2012 he was a deputy of CEO for business environment support. He specializes in strategic management in conditions of public sector, regional development and impact of regional education and privat investments to the local labor market. He graduated in Management at the Faculty of Management of the University of Economics and also in the field of strategic management at Notthingam Trent University in Brno.
Contact: patrik.reichl@czechinvest.org; +420 724 315 038
Web: www.czechinvest.org
Michal has been involved in the space industry for more than 6 years. Currently, he works as a project manager at the European Space Agency's Business Incubation Centre Prague (ESA BIC Prague) at CzechInvest. His aim is to turn innovative business concepts, using space technologies and satellite data into successful businesses. He has also experience from the international space industry. He is a member of the International Astronautical Federation and Space Generation Advisory Council. He holds two master's degrees – Corporate Economics and Management from the University of Economics and Aircraft and Space Systems from the Czech Technical University.
Contact: michal.kunes@czechinvest.org; +420 728 335 830
Web: https://www.esa-bic.cz/
Ludek co-founded a private company advising Czech and Central-European private companies in the national and regional funding schemes and managing development projects. Ludek also works as manager of research projects and studies at BizGarden and he is one of the founding members of the coworking space KoPlac in Brno. Beside the managerial part, his work is mainly focused on the development of marketing strategies and business models deploying products and services which use space assets as enabling technologies. This includes also cooperation with investors and venture capital partners who are interested in investments in high-tech products or services.
Contact: ludek.kuhr@koplac.cz; +420 605 822 228
Web: http://koplac.cz; http://bizgarden.cz
Josef holds a doctoral degree in the field of Applied and Landscape Ecology from Prague's Charles University. During his studies, he mainly focused on the environmental aspects of tourism in mountain ecosystems. He then began working in the non-profit sector addressing sustainable development of cities, environmental monitoring and the concept of ecological footprint. In 2013, Josef co-founded a non-profit organisation called CI2, o.p.s. where he holds the position of the Director. Today, Josef orients his attention towards climate change, its popularisation, the assessment of carbon footprints, and the adaptation of cities to climate change. Josef comes from the mountainous Krkonoše region, is married, and has two children.
Contact: josef.novak@ci2.co.cz; +420 736 162 066
Web: http://www.ci2.co.cz | http://www.snizujemeco2.cz | http://indikatory.ci2.co.cz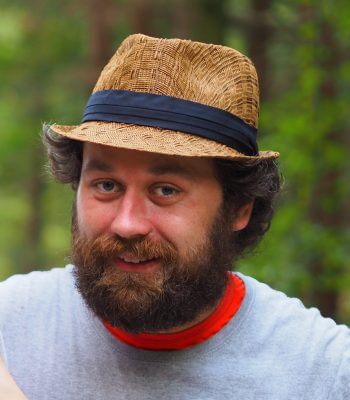 I am father, biker, drummer, beer lover and eternal startuper. I am one of the founding members of the coworking space KoPlac in Brno, where we support startups and young entrepreneurs. BizGarden is a research organization specialized in space downstream sector. We are ESA contractors and we currently work on two projects developing drone platform for use in the tourism, agent detection and area monitoring. I will be glad to discuss you business idea, marketing plan and possible funding of the project.
Contact: jan.orava@koplac.cz, +420 739 027 166
Web: http://koplac.cz/, http://bizgarden.cz/
Jáchym dealt with the development of GRASS GIS, then he started to hack in Python. He contributes to the OpenLayers library and he collaborates on a variety of web applications, such as the National Geoportal INSPIRE or Geosense. He is the initiator and originator of the PyWPS project. He runs GeoPython programming training, supports GRASS GIS training and web mapping technologies. He is a founding member of the Open GeoInfrastructure Association and a member of the Open Source Geospatial Foundation.
Contact: jachym.cepicky@gmail.com
Web: http://opengeolabs.cz/
Pavla is a Software Engineer at Space Systems Czech. She graduated in Geodesy and Cartography at the Faculty of Civil Engineering of the Czech Technical University in Prague. Her professional skills and interests are related to Global Navigation Satellites Systems, Remote Sensing and GIS.
Contact: pavla.jindrakova@spacesystems.cz ; +420 737 121 171
Web: http://www.ssf.fi/
Full-stack software engineer, years of experience developing all type of custom made software using languages like Java ver. 6-8 (J2EE, JEE) and technologies like Spring, SpringMVC, Hibernate, Jackson, Jersey, JPA, Wicket. For Web development I have skills with frameworks like ReactJS, AngularJS. I'm working with several known JS libraries like jQuery, AJAX etc. I'm familiar with building systems for continues delivery like Jenkins, Travis or IBM Urban Code Deploy. Expertise in database replication software development. Skills with NoSQL DB like Cloudant and SQL DB (DB2, mySQL) . I'm working with Application Servers like IBM Websphere, Tomcat. For building process I'm working with Maven for Java and with Gulp for JS code. I worked couple years with Portals like IBM Websphere Portal or Liferay. Currently I'm focused to IBM Cloud platform – Cloud Private / Cloud Public.
Contact: pavoldobias@ibm.com; +420 533 419 117; https://twitter.com@pavol_dobias
Web: https://www.ibm.com/cloud/
Marek works as ESA BIC Prague Programme Manager at the Investment and Business Development Agency CzechInvest. His aim is to look for entrepreneurs and young start-ups with innovative ideas for exploiting space technologies or applications and help them to develop their non-space businesses on Earth.
Contact: marek.aldorf@czechinvest.org; +420 721 375 143
Web: https://www.esa-bic.cz/
Jacek is CEO of the Omnilogy company, Poland, and a project manager of the EO ClimLab project. He has been involved in ESA projects since 2013 year. He is an expert in IT monitoring systems and platforms for financial, energy and public sectors.
Contact: jacek.kujawa@omnilogy.pl
Web: http://omnilogy.pl/
16 MARCH 2018
15:00    Participants registration
15:30    Welcome speech, presentation of challenges and data tools
15:45     Workshops to help you tackle the technology and challenges:
Jiří Pětník: How to tackle IBM Cloud and technology
Jáchym Čepický: GIS & Remote sensing and EO data processing
Pavla Jindráková: Data analytics platform for Climate resilience
Michal Kuneš: Start-up your business in space – funding opportunities
17:00    Building the teams and pitching your idea
17:30    Hacking time
20:00   Dinner
17 MARCH 2018
0:00     Dancing in The Moonlight
2:30      Break, energiser
6:00      Morning refreshing walk
9:00      Breakfast
13:00    Lunch
16:00    Pitch training
17:30    End of hacking and small break
18:15    Presentation for the jury
20:30    Award ceremony, Farewell cocktail
CRITERIA
   Use of Earth observation data
   Innovation index: the innovative and original nature of the project: radical, technological and social innovation of products and services
   Benefit index: the expected benefits of the project and its relevance to major social issues
   Business index: the validity of the economic model to generate income (maturity of supply and demand, reliability analysis, etc.)
BOOST YOUR BUSINESS WITH BIG DATA FROM SPACE!